Gadget geek? Gear head? Kari has called me worse. This just another gadget, but one I can justify as being (almost) totally necessary. 
This is an AC battery adapter for my Canon 80D (a.d.d.) camera. It provides continuous power during a shooting session. The camera is mounted for vertical photography in my stop motion studio. When my battery dies in the middle of a stop motion shooting session, changing the battery without moving the camera was impossible. BTW, the OEM adapter from Canon was terribly expensive. This one was under $30. 
For each shoot, there are 15 frames per second. Nine hundred shots per minute. In the final view there can be several scenes going on at the same time. That's a lot of shots, but now I won't worry about the battery dying in the middle of a session. 
I had a couple of other projects that interrupted my work on the stop motion video for "Bring the Rain." I'm back on it now. Stick around, I'll keep you updated.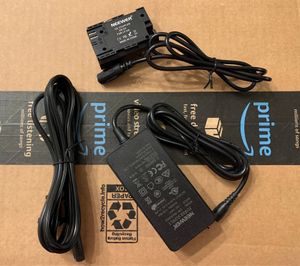 Necessary tools 
Gear head gadget twenty-nine. 
AC adapter 
 
Peace, Y'all! 
da6d