It's Saturday. I've been at The 74th Annual NC Rhododendron Festival in Bakersville, NC, for the past two days. I had a performance Friday and I've been providing PA/sound support for the event.
The musical performers were excellent. The vendors were many and varied. There were also Rhododendron Queen contestants. That's the main focus of the event, but the festival, the music, and the warm and friendly atmosphere made it a wonderful event.
Next weekend I am attending an outdoor music festival. Music, camping, and Friends ... and Covid-19. Coronavirus is still as active as ever. Vaccinations are the main tool for fighting this virus. That's the extent of the opinion I want to proffer at this time. What I want to ramble on about is the lottery. 
"What has the lottery got to do with Covid-19?" you may ask. Go ahead. I'll wait. 
The North Carolina Department of Health and Human Services is offering "Your Shot at $1 Million Summer Cash Drawing". There's the link. Get your vaccine and you are entered. I'm not making this up.

"These summer cash drawings add another reward to the many that come with getting a COVID-19 vaccination." —Dr. Mandy Cohen, Secretary of NCDHHS.
So, here's this. The more people that get vaccinated in North Carolina, the lower the chances are of winning the $1 Million lottery. Bummer. But, the more people that get vaccinated in North Carolina, the better our fight against COVID-19. Do it.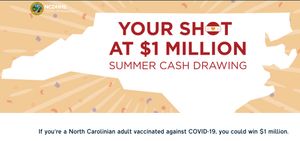 One million dollars
Summer Cash Drawing, win/win.
Get vaccinated.
Peace, Y'all!
da6d