I'm going to kill two stoned birds. That's a sideways rendition of "killing two birds with one stone." Literally, I've never even killed one bird with one stone. Figuratively, I have lots of stoned birds. 
The first bird is the Altapass Orchard on the Blue Ridge Parkway near Spruce Pine, NC. The Altapass Orchard is a most remarkable place. Of course, there is an orchard and apples, but there's also food, music, local arts and crafts, and more music. Which leads to the second bird. 
Saturday, June 26th, from 2:30-4:30 pm, I'll be sharing Blues, Folk, and Ballads; Truths and Lies on the Olin Hefner Pavilion at the Altapass Orchard. 
Anytime during the season, Altapass Orchard has storytelling, nature programs, wagon rides, pick-your-own apples, ice cream, fudge. I may have used all the commas that I am allowed to use, but there is so much more at the Altapass Orchard. A family could spend the whole day there. I must mention birding and monarch butterflies. Yep. Plenty to do at the Altapass Orchard.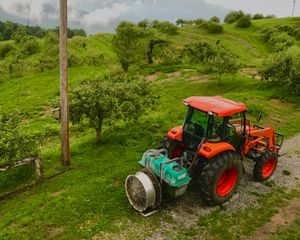 Altapass Orchard 
Along the Blue Ridge Parkway 
"Saving the Good Stuff" 
 
Peace, Y'all! 
da6d