"I go out walking after midnight …" Patsy Cline (1932-1963). 
If you want to sleep late in the morning, you gotta walk the dog late at night. That may never become the axiom by which lives are planned, but it's part of my night. I enjoy the quiet of night. I see animals: cats, foxes, deer. I appreciate the honesty of nighttime shadows. 
In front of every silver lining, there's a cloud. I took this picture tonight as the full moon rose. The verse below came from my walk Monday night.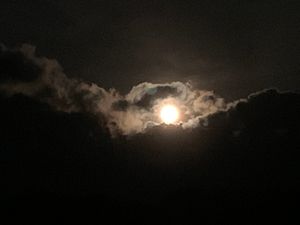 Monnight, under moonlight, 
Angels met me on my walk. 
They touched me as they often do 
Held me shivering in their midst. 
There was wind, and then, 
I bid the angels goodnight and came inside. 
Luna winks, welcomes. 
Moon's rise. Mesmerized, I sit 
Waiting on her smile. 
 
Peace, Y'all! 
da6d