Nice view, eh? The Toe Down Music Festival Day 2. I'm sitting in the shade with a cool breeze, waiting on the first performer of the evening. 
 
The sound system is unbelievably clear. I'm parked/camped about 125 yards away from the stage. I can listen from here, write a da6d Daily Ramblin', and breathe. 
Breathe in the good, breathe out the bad. Repeat.  
Some nights at home, I'll go outside at sunset to look around. See what Luna has planned for the evening. Last night, I did this. Tonight I'll do this again at The Toe Down Music Festival. 
I took pictures last night, of course, but I'd believe anyone if they told me that I post too many moon rise pictures. So, this is my view as I sit and write and breathe. 
Breathe in Luna's rise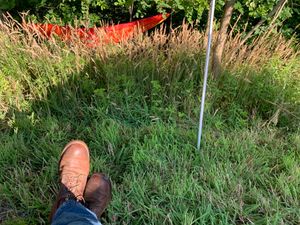 Inhale Sol's reflected light
Exhale days dark end
Peace, Y'all!
da6d