Road Trip! Monday Morning 
Okay, not quite a road trip, but maybe like a combination errand/day trip. Day trip! Hi-ho, the derry-o, a Ramblin' we will go.
I'm riding with a Friend to pick up a utility trailer near Rutherfordton, NC. It ought to be a pleasant trip. It's been a while since our last endeavor, which nearly resulted in severe injury and death. I'm excited to see how this one turns out. 
***Game One of the Stanley Cup Finals is tonight. This tonight, like today's evening. I'm excited. Go Habs!*** 
We now return to our irregularly unscheduled deprogramming. 
Road Trip Monday Afternoon 
Getting the trailer was a vortex of sequences. The seller says, "Oh, we just have to go down the road a bit, about 15 minutes, to get the title notarized." Twenty-five minutes riding in the bed of a pick-up truck, one way. It's NC and I am over 16 years of age. I am afforded the privilege of riding in the bed of a pick-up truck without a seatbelt. 
Inside the vehicle, I could get a $25 ticket for not wearing a seatbelt. In the bed of a pick-up truck, it's "Live Free Or Die" … or both, depending on your luck. 
Okay, now we go back to get the trailer. That plan survives intact up until the moment of trying to fit a 1-7/8" trailer hitch on a 2" ball. Plot twist. Tractor Supply® is in the same strip mall that is supposedly 15 minutes away, but actually 25. We go back, but this time I'm driving. 
That's all. We got the trailer. I drove back through Lake Lure, Chimney Rock and Hendersonville. The highlight of the rest of the trip was a 5:30 pm lunch at Jack-in-the-Box®. It was a good day. I appreciate these more, lately. Once again, we have avoided serious injury or death.
I've already had one photograph in the past week showing places my shoes visit. Here's another. BTW, game on. I'm watching.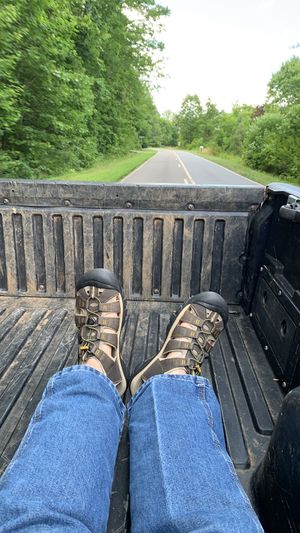 Three people; two seats. 
Who's gonna ride in the back? 
No shoes in the bed!

Peace, Y'all!
da6d