I've been asked, "Are You letting your beard grow?" I usually reply with, "My team is in the playoffs."  Stanley Cup Playoff Beard. Did you read that? I wasn't kidding. 
The Tampa Bay Lightning, defending Stanley Cup Champions, leads the best-of-seven series. The Carolina Hurricanes are trailing 3-1 in the second round of the Stanley Cup Playoffs. Game 5 is in Raleigh Tuesday. They are expected to make a full recovery. 
I'm also pulling for the Colorado Avalanche. They had the best record of the COVID-19 shortened 56-game season. It's possible that the Hurricanes could face the Avalanche in the Stanley Cup Finals. I'd like to see that.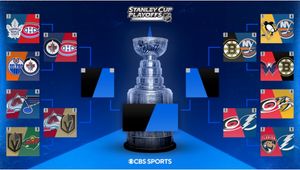 Tampa Bay Lightning 
Carolina Hurricanes 
Stanley Cup Playoffs 
 
Photo Credit: CBS Sports
Carolina would have to get seven wins; Colorado would need six wins finishing this series, with both winning their respective Conferences. Colorado is leading their series 2-1. Stay tuned. I'll keep you updated. 

Peace, Y'All 
da6d