Kari and I went trespassing tonight. She'll claim that I was the instigator, but I told her no one would believe that. 
The actual trespassing part might have been my idea, but the reason why was entirely hers. 
There's a tiki lounge behind our back yard. The neighbor's. Kari said that their umbrella looked like Cousin It, from The Addams Family. She was right.
Kari may also claim that I had my hat and sunglasses in hand and was screaming "Get your iPhone and hold my root beer, dear!" as I ran out the door. Don't believe that either. 
Kari and I met a decade ago. I recall that after an early date, I thanked her for adding color to my evening. She still does.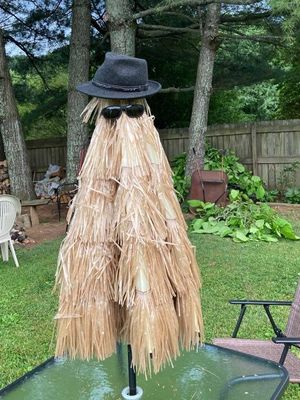 Cousins playing tag.
"Who's It?" It is. "Who is?" It!
"Is It always It?" 

Peace, Y'all,
da6d